Source: Pune Mirror
City children's author Varsha Seshan has been shortlisted for Scholastic Asian Book Award 2016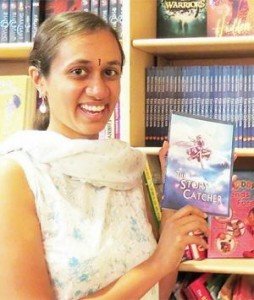 Writing for children is extremely challenging at many different levels," laughed city-based children's author Varsha Seshan. She should know, though she seems to have nailed the deal. Seshan is one of the five authors — there's only one other Indian in the group — selected from among 54 submissions from 11 countries, whose book, Dragonflies, Jigsaws and a Rainbow, has been shortlisted for the Scholastic Asian Book Award 2016.
The award recognises the best unpublished middle-grade or young adult novel written by an Asian in Asia, with a 10,000 SGD cash prize and a publishing deal with Scholastic Asia. The winner will be announced in May at the annual Asian Festival of Children's Content in Singapore. Written over the course of a few years, Dragonflies, Jigsaws and a Rainbow is a compilation of 11 short stories traversing the rural, urban and fantastic landscapes against an Indian backdrop. "An Asian theme was one of the primary conditions of the competition and all the stories are inspired by moments in Indian life. I don't consciously think of myself as an Indian writer. Usually, by Asian or Indian themes, people seem to expect rural India as opposed to the developed one. And, quite honestly, I haven't had great exposure to the former; I am more of an urban writer," said 29- year-old Seshan, who has, nevertheless, included some rural-flavoured stories in the compilation.
Seshan not only writes for children, but conducts numerous reading and writing workshops in and around the city as well. "Children are the most logical creatures — they will always ask why. At the same time, they are way more imaginative than adults, which is why I like writing for children," she said. The nomination for the award is also a statement of sorts by Seshan for publishers who reject short stories, reasoning that there's no market for them. "I really hope the nomination changes that. I still haven't understood what publishers want. According to them, short stories don't work; but to my experience, they work very well with kids," she insisted, adding that short stories are her forte and her first book,The Story-Catcher, was also a compilation.
"It's not so easy to generalise what children read or don't read. It's a vast market with wildly varying exposures and emotional and linguistic differences between children from different parts of the country. A child in Baramati would be as mature as a Pune kid, but the linguistic difference would result in his reading Enid Blyton at Class 10," she explained, adding that as a children's author, it's extremely important to be up-to-date with their world.
Seshan is currently working on a series of 33 books — a project undertaken in association with the National Rail Museum, New Delhi, to familiarise young readers with the history and mechanics of the railways. "It's a really interesting project involving a lot of research. It's awesome!" she smiled.
█ Children are the most logical creatures — they will always ask why. At the same time, they are way more imaginative than adults