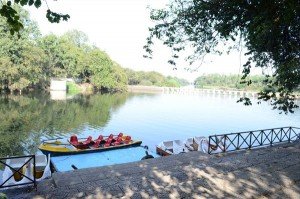 The Pimpri-Chinchwad Municipal Corporation's (PCMC) Thergaon Boat Club 'river garden' is a successful attempt to offer citizens a garden with a difference.
This 7-acre garden was developed by the PCMC at a cost of Rs1.9 crore, behind the Aditya Birla Memorial Hospital alongside the Pavana river, which passes through Chinchwad.
Another Rs5 crore was spent by the PCMC's garden development department to create infrastructure for the garden.
Inaugurated on February 16, 2007 by then mayor Mangala Kadam, MLAs Vilas Lande and Laxman Jagtap, the garden is an initiative by the PCMC to promote water sports in the township.
According to PCMC garden superintendent Suresh Salunkhe, the civic body opened a privately run Boat Club at the garden to promote water sports such as rowing, canoeing and kayaking.
"This garden has landscapes, a rock garden and a simulated natural stream running through the centre of the garden. The stream is surrounded by mushroom-shaped umbrellas. There are fountains and waterfalls and the water is supplied through semi-automatic irrigation system," he said.
Janak Rathi, a student who visits the garden during afternoons, says, "There are ferroccrates, cemented structures that appear to be made from wood and multi-storey gazebos that resemble watch towers, but are actually places to sit and enjoy the landscape of the garden. That's the best place in the garden where I sit and study in the afternoons."
The garden also has an open air auditorium, which can be used as a sitting area or to watch programmes. The garden also has boating facility. The boating area has a jetty and boating can be enjoyed by using a pedal boat or a motor boat.
If one is a bird lover, then this is great place to be. The birds do not come near crowded places. Hence, one has to take a boat ride and go approximately a kilometre upstream to watch various birds.
Kartiki Sugandhe, a class IV student says, "I love to come to this garden, but my parents do not allow me to go boating regularly. I get to enjoy the boat ride only once a month during the weekend. The boatmen ask us to wear life jackets and take us in the boat. On other days I love to go around in the toy train.
The most interesting thing that children enjoy is a little toy train that starts plying from 5 pm on every day with the exception of Thursdays and Sundays when it may start at 3 pm, depending on the crowd. There is a small structure for canteen, but since the canteen is not functional, it is used as a gym, though it does not have any equipment.