Gold Jewellery Showroom / Store in Wakad – Hemant Jewellers
About Us Gallery Our Policies Contact
About Hemant Jewellers –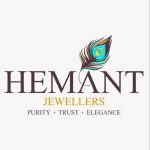 Hemant Jewellers was founded on 9th February, 1998. Hemant Jewellers – Gold Jewellery Store in wakad opened its first branch in wakad chowk. Hemant Jewellers at wakad is the oldest and the first Gold Jewellery Store in wakad. We at Hemant Jewellers have completed 21 years of service with trust & loyalty towards our wakad & pimpri chinchwad customers.
"Our Reputation Shines as Brightly as our Gold"
With unbeatable trust gained Hemant Jewellers recently opened its new Gold Jewellery store in wakad on 18th December, 2018. Hemant Jewellers new Gold Jewellery Store in wakad inaugurated on 18th December 2018. Inauguration was done by Mandatai Kalate and Corporator Swati Mayur Kalate.
Our transparency & purity is the key to earn trust scores of customers, what also make us different from other jewellers is the wide variety of Gold Necklaces, Bangles, Earrings, Gold Chains, Mangalsutras etc. Keeping the choices of new generation in mind Hemant Jewellers also have some special collection of some of jewellery type by the name Marigold Collection which have distinct and eye-catching styles for our customers. And finally our Silver Ornaments section for specific occasions completes our store.
Through wide range of collections Hemant Jewellers, wakad have unique and appealing styles to offer, keeping the affordability quotient of customers in mind. Today Hemant Jewellers, wakad had firmly established itself as a leading Gold Jewellery store in Wakad.
Come and experience wide variety of gold and silver ornaments in an affordable price at Gold Jewellery Store – Hemant Jewellers.
Gold Jewellery Designs Gallery
Hemant Jewellers Policies 
        Contact Us
Address
Shiv Ratan Building,Utkarsh chowk,
Near Pizza Hut,Wakad,
Pune, Maharashtra 411057
Contact No. 95958 35111
Client Testimonials
The best I personally recommend coming to this shop since many years but nothing has changed Very good service and best in the area – Akshay V
Very nice service and many options available with good and effective making charges – Rohit P
Such beautiful collection of golden heritage….! – Swati W
Fully trusted shop and very good service given to customers. I think Atithi devo bhav is fully followed – Prashantbibh V
Very nice service given and mainly orders are given on time – Kavita S
I purchase silver.its nice – Jyoti J
Gold Jewellery Showroom / Store in Wakad – Hemant Jewellers