Wakad Directory
How does our Local Directories (eg; wakad.in) add Great Value to Local Business?
"Unlike Big National Business Directories like Justdial, Sulekha which only give you google search presence, we go much ahead in giving you a 4 pager rich directory listing, all your links included, your Directory listing shared on Social Media Platforms like local Facebook page, Local Facebook Group, Local Twitter & Local Instagram handle."
How can Local Directory Marketing platform help Local Businesses?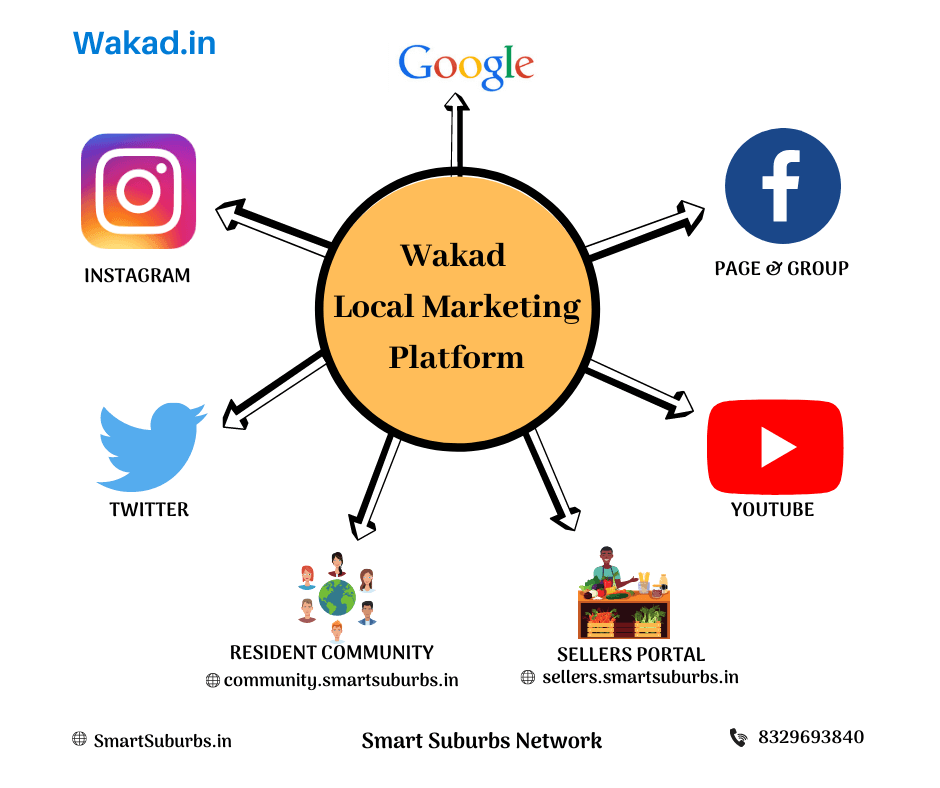 What value does just Rs.3000 per year bring you on Local Marketing & Lead Generation?
High in Google Ranking Top position in Directory
Micro Website with 4 pages of Biz info, Products & Services, Contact, FAQ n more…
We create your Paid Listing while you focus on Biz
Up to 20 pics of your  products or services
Google Direction Guidance Button for easy reach to your Biz address
Contact Form for Customers to reach you via email
FREE 1 Article / Story / Press Release relating to your Biz
FREE 2 Discount Coupons per year (you share us and we load it)
FREE 2 Events per year(you share us and we load it
4 Facebook posts / year on our wakad Facebook page, 4 Facebook posts / year on our wakad Facebook Group
4 Insta posts / year on our wakad Instagram Account
Just coming in Google Search is incomplete for a local business. You need your Biz / Brand to appear on local FB page, FB group, Insta and Twitter.
With our Paid Directory listing, a small business doesn't worry about coming in google searches. A rich 4 pages Biz Directory Listing covers your Product, Service, 20 images, 2 events per year, 2 discount coupons, 16 social media posts, google 1st page search assurance and more..
eg below: wakad Paid Listing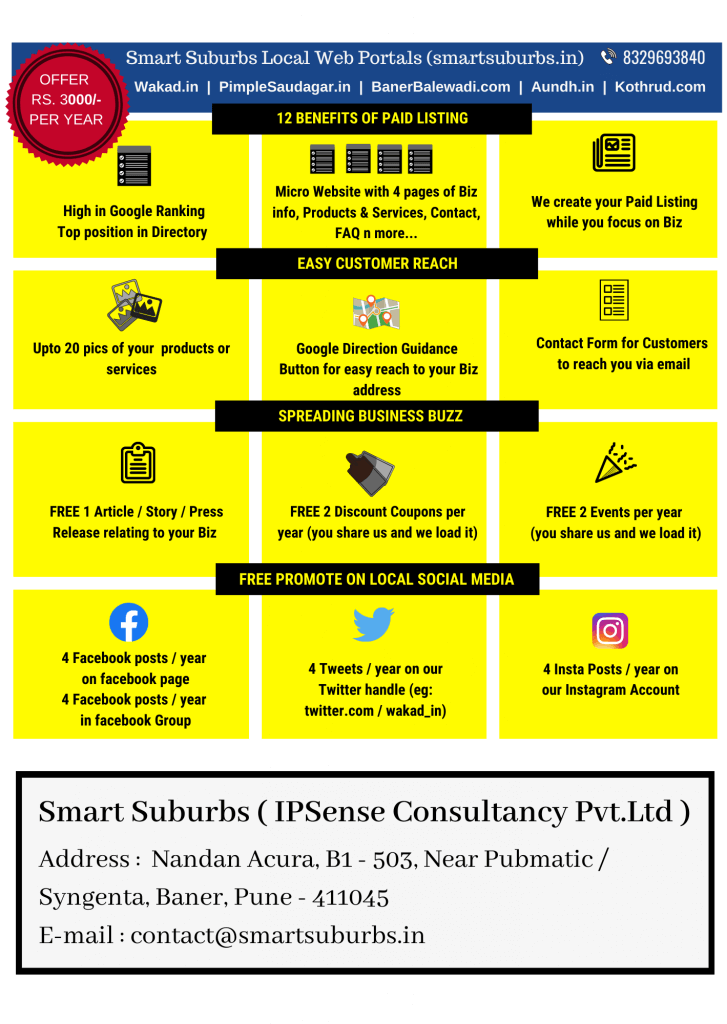 Examples of some of our customers appearing on Google Search Results.
Examples of Some of our Local Clients on 1st Page
We have 100% record
Directory FAQ
Wakad.in Directory FAQ for Biz Directory Use, Listing and benefits
What is Wakad Business Local Directory all about?
An online local directory is a website that lists local businesses, usually within categories. These directories allow business owners to list their business, get their name in front of the customers, and give customers the information they need to contact the business. It also narrows the World Wide Web down to location-based communities and places and makes local businesses more accessible to the customers that use them.
Thus, Wakad Biz Directory offers local businesses & residents a single local platform offering Local Businesses Directory, Local Events, Wakad Education Guide,Wakad Healthcare Guide, Wakad Financial Services Guide, Local Coupons, find Jobs in Wakad, local Online Bazaar.
The details provided in an online listing will vary from business to business and from directory to directory. Typical information includes:
The business name
Address
Telephone numbers
Product or service sold
Street/Area the business serves
Business offered Products & Services
Professional associations the business belongs to
Reviews, comments, and feedback (on some sites)
Business conducted Events / Jobs requirement
Local Online Marketplace (eg; http://Wakad.in/bazaar)
Can small businesses profit from using online local directories?
Profit is an equation of Cost versus Revenue. At just Rs.3000 per year, you get the opportunity of being on a local search engine, appear in Google search results giving you FREE ORGANIC traffic, being part of Local Directory Android App (coming soon), a listing which is managed by Directory team and tuned to your best interest of capturing Google or Bing search traffic is certainly a LARGE VALUE FOR MONEY.
Marketing as we all know is a multi-pronged approach. Businesses rely on promoting local businesses via Print leaflets, SMS marketing, Email Marketing, Google Adwords, Facebook marketing and various other social channels. Print is no more seen as a Cost-Effective means of advertising as the Digital mediums of marketing like Paid Listing or Banner Ads brings measurable way to spend your marketing budget. Also, the BIGGEST advantage of Paid Listing is also achieving customer interaction and increasing footfalls in a very cost effective way.
The intent is that it will bring customers to actual brick-and-mortar businesses that are located near them, meaning that small businesses have the most to profit from being listed. And if your business isn't listed, there's a good chance that your competitor's is, and that customers will go to them instead of you.
Does listing at Local Directory cost effective versus listing at a national Directory?
National level Directory listing usually is quite costly for small to medium-sized businesses as the annual billing can start anywhere from Rs.10000 and above. The drawback of a national level directory is that the searcher many times cannot find very location specific search results as the results get influenced by businesses listed across multiple areas.
The Biggest Cost to Value benefit of listing your business on Wakad.in is that at just Rs.3000 for 1st year and subsequent renewals at Rs.1000 per year, you get the following 12 Rich Features:
4 web pages of your Business, Products & Services description. This means, you don't even need a dedicated website where you will spend large money to make it, then to get it into a search engine, domain renewal annual fees, hosting fees. Instead just list on Local Directory engines like ours where you get the same value. We also provide online store capability or payment collection facility for just 5% deduction.
Top Banner picture of your Business on your listing page
Up to 20 pics of your products/services
Direction Guidance Button for customers to reach you Biz location
Contact Form for businesses to reach you via email
URLs / Links of your Website, facebook and other social media channels.
Up to 2 Discount Coupon per year (you share us and we load it)
Up to 2 Events per year (you share us and we load it)
Your Biz Listing will appear in Google search engine page searches.
Your Premium Business Listing details will be posted on our Local facebook pages (eg; https://www.facebook.com/PimpleSaudagarBizDirectoryMarketingEventsResidents/ , https://www.facebook.com/WakadBusinessDirectoryLocalMarketingEventsResident/)
FREE Twitter integration. You keep your LISTING ACTIVE WITH YOUR LIVE TWEETS.
Whatsapp share button (easy for you as a business to share your business offerings to prospects over WhatsApp)