Wakad Directory
How does our Local Directories (eg; wakad.in) add Great Value to Local Business?
"Unlike Big National Business Directories like Justdial, Sulekha which only give you google search presence, we go much ahead in giving you a 4 pager rich directory listing, all your links included, your Directory listing shared on Social Media Platforms like local Facebook page, Local Facebook Group, Local Twitter & Local Instagram handle."
SMART SUBURBS LOCAL MARKETING PLATFORM NETWORK
What value does just Rs.3000 per year bring you on Local Marketing & Lead Generation?
High in Google Ranking Top position in Directory
Micro Website with 4 pages of Biz info, Products & Services, Contact, FAQ n more…
We create your Paid Listing while you focus on Biz
Up to 20 pics of your  products or services
Google Direction Guidance Button for easy reach to your Biz address
Contact Form for Customers to reach you via email
FREE 1 Article / Story / Press Release relating to your Biz
FREE 2 Discount Coupons per year (you share us and we load it)
FREE 2 Events per year(you share us and we load it
4 Facebook posts / year on our wakad Facebook page, 4 Facebook posts / year on our wakad Facebook Group
4 Insta posts / year on our wakad Instagram Account
Just coming in Google Search is incomplete for a local business. You need your Biz / Brand to appear on local FB page, FB group, Insta and Twitter.
With our Paid Directory listing, a small business doesn't worry about coming in google searches. A rich 4 pages Biz Directory Listing covers your Product, Service, 20 images, 2 events per year, 2 discount coupons, 16 social media posts, google 1st page search assurance and more..
eg below: wakad Paid Listing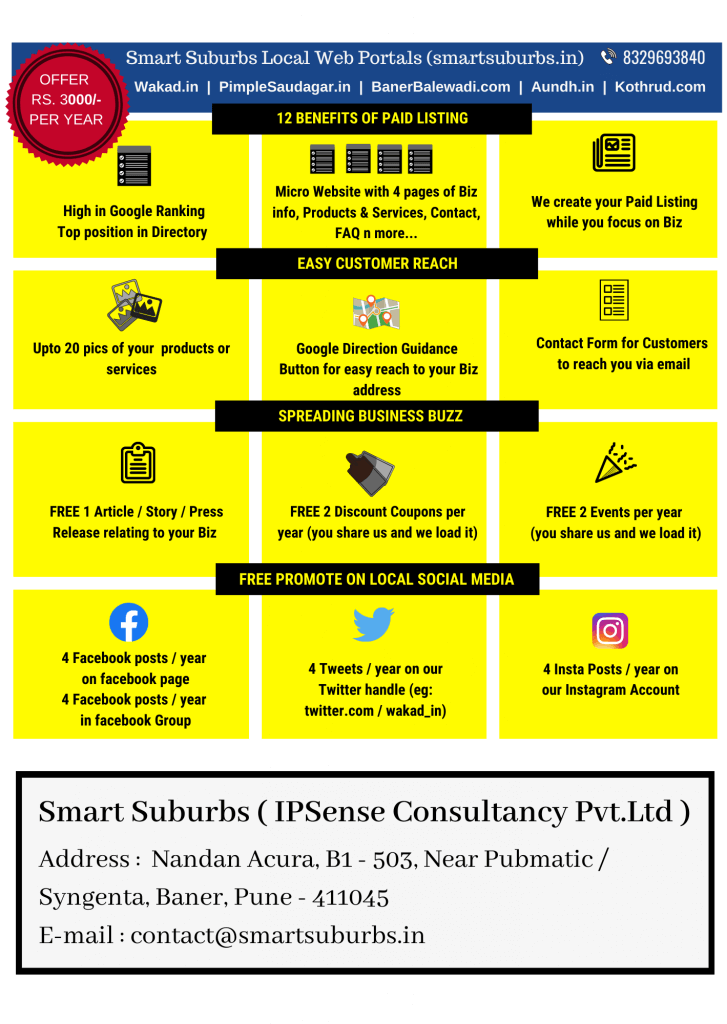 Examples of some of our customers appearing on Google Search Results.
Examples of Some of our Local Clients on 1st Page
We have 100% record
Directory FAQ
Wakad.in Directory FAQ for Biz Directory Use, Listing and benefits